The Australian Embassy in Addis Ababa, Ethiopia has responsibility for Australia's relations with Ethiopia, South Sudan, Djibouti, the Central African Republic, the African Union, the United Nations Economic Commission for Africa, and the Intergovernmental Authority on Development.
Follow us on Facebook and Twitter for the latest Embassy news and activities.
Head of Mission - HE Mr Peter Doyle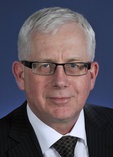 Mr Doyle is a senior career officer with the Department of Foreign Affairs and Trade and was most recently Chargé d'Affaires, Australian Embassy, Brasilia. He has previously served overseas as Head of Mission, Australian Embassy, Dili; Head of Mission, Australian Embassy, Ankara; in addition to postings in Malaysia and Bangladesh. In Canberra, he has served as Assistant Secretary, European Union and Western Europe Branch and Director, People Smuggling, Refugees and Immigration Section.
Mr Doyle holds a Bachelor of Arts and a Bachelor of Laws from the University of Queensland.
Contact Information
Australian Embassy
Cape Verde Street (Turkish Compound)
PO Box 3715
Addis Ababa
Ethiopia
Telephone: +251 967 941377
E-mail: [email protected]
Web: www.ethiopia.embassy.gov.au
Opening Hours
The Embassy is open from 0800 to 1600 hrs Monday to Friday except for Embassy public holidays.
Consular services are provided from 0900 to 1500 hrs, Monday to Friday.
Passports services are provided only from 0900 to 1200 hrs, Monday to Thursday.
For Consular and Passports related visits to the Embassy, please schedule your appointment at https://australianembassyinaddisababa.setmore.com/ before visiting the Embassy.
Applicants with extraordinary circumstances requiring urgent service should first check online for available appointments and, if none are available, email [email protected] for assistance.
More Information