Welcome to the Australian Embassy, Ethiopia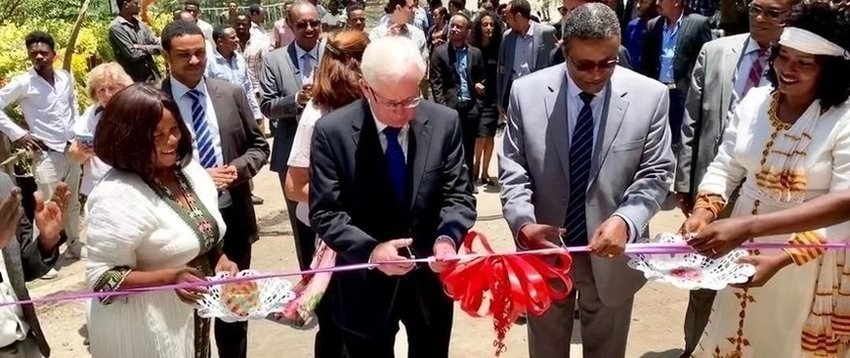 Ambassador Doyle participating in the inauguration ceremony of Hawassa University Hospital's Pediatrics, Orthopedics,Traumatology and Emergency sections.
A message from the Australian Ambassador, HE Mr Peter Doyle
Welcome to the website of the Australian Embassy in Addis Ababa, Ethiopia.
The Embassy has responsibility for Australia's relations with Ethiopia, South Sudan, Djibouti, the Central African Republic, the African Union, the United Nations Economic Commission for Africa, and the Intergovernmental Authority on Development.
Across these countries and multilateral organisations, Australia promotes global cooperation to support a stable, prosperous Africa. We have a strong stake in the economic development of the region and much to offer in the areas of mining, agriculture and education.
Australia is a diverse and multicultural society. We have an open economy and a firm commitment to forging positive partnerships around the globe.
I appreciate your interest in Australia. I hope this website will assist you to understand more about our country, its government and its people.
Peter Doyle
--------------------------------------------------------------------------------------------------------------------------------------------------------------------------------------------------
Quick links
--------------------------------------------------------------------------------------------------------------------------------------------------------------------------------------------------
Announcements
We're hiring!
We're looking for a Program and Policy Officer with strong program management and communication skills.
The Program and Policy Officer is responsible for supporting the Embassy's management of Australia's partnerships with the African Union and UNECA, the Embassy's small grants program, and reporting on pan-African priorities including trade, development and peace and security.
Want to know more? Read the Position Description here.
To apply, send a completed application form to Recruitment-AddisAbaba@dfat.gov.au by midnight on Wednesday 23 October 2019. Please save your application form with the title 'LAST NAME, first name' and send only the completed application form by email. No other documentation will be considered.
Download the Application Form here.
Social Enterprise Challenge - apply today!
Do you see problems as opportunities? Do you think that business can make the world a better place? Do you care? If so, we need you!
The Australian Embassy, in partnership with blueMoon, invites techies, game-changers, doers, curious learners, passionate and dynamic innovative entrepreneurs to apply to the Social Enterprise Challenge. Selected entrepreneurs will get 6 months of intensive incubation followed by 6 months of post-incubation support, business services, and access to strategic and angel investors.
To find out more information about the challenge and how to apply, click here. The application period closes at midnight on October 11, 2019.
Changes to Smartraveller
Important changes to Smartraveller are coming. Our new Smartraveller website will be launched in November. It will include a simpler system for getting travel advice updates and a new approach to registration.
Travellers have told us what they want most from Smartraveller is timely travel advice. We've listened, and we're working on a subscription service that will deliver the latest updates to your inbox and SMS critical alerts in a crisis.
As part of the update we no longer ask Australians to register their travel before departure.
From November, Smartraveller's registration system will activate only when there's a crisis overseas. The service we provide to Australians in difficulty overseas is not changing. You're still welcome to register your travel with Smartraveller until November. As always, we encourage Australians overseas to stay in touch with friends and family and let them know you're safe.
If you need immediate assistance, you can call the Consular Emergency Centre on +61 2 6261 3305 from overseas or 1300 555 135 from within Australia.
For more information on the changes, visit Smartraveller.gov.au/changes
Follow us on Facebook and Twitter
Follow us on Facebook and Twitter for the latest news and activities from the Australian Governmment in Ethiopia, South Sudan, Djibouti, and the Central African Republic.
Consular and Passport Appointments
The Australian Embassy has launched an online appointment system allowing our clients to schedule passport and notarial service appointments. Please schedule your appointment at https://australianembassyinaddisababa.setmore.com/ before visiting the Embassy.
Applicants with extraordinary circumstances requiring urgent service should first check online for available appointments and, if none are available, email consular.addisababa@dfat.gov.au for assistance.
--------------------------------------------------------------------------------------------------------------------------------------------------------------------------------------------------