Australian Embassy
Ethiopia
Turkish Compound (off Cape Verde Street), Bole Sub City, Addis Ababa
Australian Embassy in Ethiopia
Welcome Message from the Ambassador

HE Mark Sawers
Welcome to the website of the Australian Embassy, Addis Ababa.
The Embassy has responsibility for Australia's relations with Ethiopia, Djibouti, and the African Union (AU).
As the second most populous country in Africa, Ethiopia is an important regional leader, and Australia looks forward to developing our already warm bilateral relationship further. We also aim to build deeper relations with Djibouti, an important regional transport hub, which also supports vital anti-piracy activities in the Indian Ocean region.
The AU plays a central role in the economic and social development and peace and security of the African continent and it is an important focus of Australia's relationship with the whole region.
Across Ethiopia, Djibouti and the AU, Australia supports cooperation in the areas of peace and security, human resource development, food security, agriculture, and mining good governance. Australia has a strong stake in the economic development of the region and has much to offer in the areas of mining, agriculture and education.
I hope this website will assist you to understand more about Australia, its Government and its people. Australia is an inspiring and unique country with a strong economy, a diverse, multicultural society, a wealth of natural wonders, and a firm commitment to forging positive partnerships around the globe.
I appreciate your interest in Australia and hope you too can contribute to stronger relations with Australia in all fields.
Mark Sawers
---
Announcements
Australia Awards 2015 - Make a difference with an Australia Awards Short Course
The Australian Government is offering prestigious development scholarships to African Professionals. Through study and practical experiences, scholars will gain the skills and knowledge to drive economic and social development in their home country.
Australia Awards short courses (2016 intake):
Targeted professional development in specialised fields delivered in both Africa and Australia.
Agriculture: Applications are now open
Agriculture remains a priority sector for application intakes, and for the Australian Government. Scholars can choose to participate in short course focussed on agricultural productivity, such as agribusiness, agricultural research or sustainable fisheries.
Public Policy: Applications are now open
Public Policy remains a priority sector for application intakes, and for the Australian Government. Scholars can choose to participate in public policy focused short course specialising in International trade policy and negotiations, public private partnerships for infrastructure development and ocean governance.
Apply by 18 December 2015.
To view other priority sectors, check your country page on the Australia Awards website.
The application process is open and competitive, providing equal opportunity regardless of gender, ethnicity or disability.
The Australian Government strongly encourages applications from women. Mechanisms are in place to support the participation of people with disability.
For more information go to: www.australiaawardsafrica.org
---
Photo Exhibition on 50 Years of Australia-Ethiopia Diplomatic Relations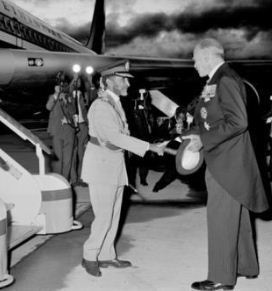 Photo: NAA, A1200, L74576
This year marks the 50th year anniversary of Australia-Ethiopia diplomatic relations.
As part of these anniversary celebrations, the Australian Embassy is hosting a photographic exhibition to illustrate Australia's strong and longstanding people-to-people links with Ethiopia.
The photo exhibition runs from 22 July to 7 August 2015 at the Ethnological Museum, Institute of Ethiopian Studies, Addis Ababa University. Opening hours 9:00am - 4:30pm.
The Embassy cordially invites you to visit the photographic exhibition. The exhibition will tour around in Addis Ababa until mid-December 2015.
For further information, please contact Ms Mekeleya Bargicho, Public Affairs Manager, on +251 911 523549 or email adba.info@dfat.gov.au
---
Australian Embassy in Addis Ababa takes over responsibility for the Republic of South Sudan and Central African Republic
The Australian Embassy in Addis Ababa has taken over responsibility for Australia's relationship with South Sudan and Central African Republic.
If you are in South Sudan or Central African Republic and require consular assistance, you can contact the Australian Embassy in Addis Ababa on ph +251 11667 2868, email adba.consular@dfat.gov.au or adba.info@dfat.gov.au or call our 24-hour Consular Emergency Centre in Australia on +61 2 6261 3305.
---
News
Prime Minister Malcolm Turnbull's new cabinet sworn in today
Prime Minister Malcolm Turnbull promised a 'government for the 21st Century' as he presented his new ministry to be sworn in by the Governor General in Canberra today.
"A ministry whose composition and focus reflect our determination to ensure Australia seizes the opportunities at this the most exciting times in human history," Mr Turnbull said.
In a press release issued today, The Hon Julie Bishop MP, Minister for Foreign Affairs said "The representation of women in Cabinet has increased under the Turnbull Government with five women appointed."
She added "I am delighted to be joined in Cabinet and the National Security Committee by Minister for Defence, Senator the Hon Marise Payne, Australia's first female defence minister. Fellow Western Australian Senator the Hon Michaelia Cash, Minister for Employment and Minister for Women, the Hon Kelly O'Dwyer MP, Minister for Small Business and Assistant Treasurer together with the Hon Sussan Ley MP, Minister for Health will join Cabinet. The Cabinet reshuffle has also strengthened Australia's foreign affairs and trade portfolio, with four Ministers appointed to represent Australia on the world stage."
To read more:
- Changes to the Ministry, Media Release by The Hon Malcolm Turnbull MP, Prime Minister
- Boost for women in cabinet reshuffle, Media Release by The Hon Julie Bishop MP, Minister for Foreign Affairs

---
The Black Jesus Experience and Mulatu Astatke: 50th Anniversary of Australian-Ethiopian Relations concert
Media Release, 24 June 2015
The Australian Embassy Addis Ababa is proud to present Australia's-own The Black Jesus Experience performing together with the father of Ethio-Jazz, Mulatu Astatke. The concert will be held at the United Nations Economic Commission for Africa on Wednesday, 24 June 2015 and is part of our celebration of the 50th Anniversary of Australia and Ethiopia's diplomatic relationship which was established on 13 December 1965.
A lot has changed in Ethiopia since 1965 and the pace of change has clearly quickened in the last two decades. The next generation in Ethiopia, who are the main focus of this event, are inheriting a country that is once again on the rise. Australia is one of many countries watching what you do with the opportunities you have now and into the future with great hope and interest. Whenever possible we would like to be a partner in that journey.
According to Australian Ambassador, Mark Sawers: 'Australia is a diverse and innovative country with a lot to offer. As Ethiopia continues to evolve before our eyes, we hope that our relationship will also grow and evolve. Tonight's event is a symbolic invitation to current and future generations of bright, enthusiastic Ethiopians to think of Australia as somewhere that is open to your ideas. Whether it is music, agriculture, tourism, mining, science and technology or higher education – there are Australians with the expertise to be a valuable partner, and we're listening.'
The event is another small step towards ensuring that the relationship between Australia and Ethiopia will continue to grow as a new generation of leaders emerges in both of our countries. (Read more: Media Release)
---
2015 Australia Awards in Africa Alumni Ambassadors Workshop was held in Accra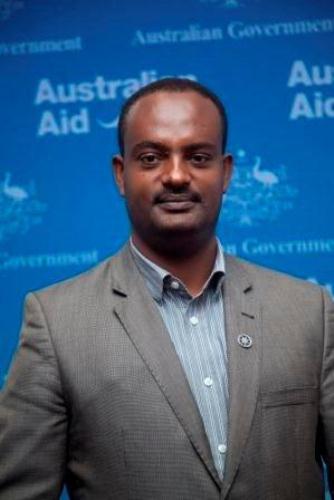 Esubalew Birhanu
The 2015 Australia Awards in Africa Alumni Ambassadors Workshop was held in Accra from 3-5 June with 14 newly appointed Ambassadors from around the continent. The Workshop aimed to build the capacity of the 2015 Ambassador cohort, preparing them for their volunteer role and involvement in Australia Awards operations.
Established in 2013, the Alumni Ambassador program taps into the enormous potential of Alumni through the contributions of a cadre of volunteer champions across the continent committed to promoting and representing Australia Awards and further raising the profile of Australia in Africa.
At the Workshop in Accra, Esubalew Birhanu from Ethiopia attended, learning new skills to complement his Alumni Ambassador role in 2015.
Read the full Alumni Ambassador Workshop story here.
---
Reintegration workshops held for graduating students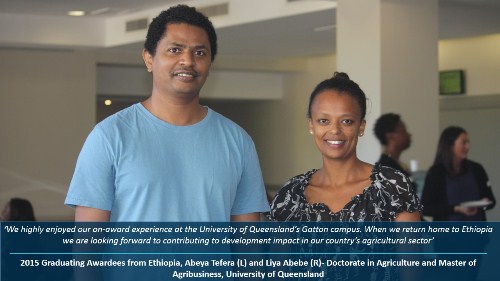 Reintegration workshops for graduating students were held in April in Adelaide, Melbourne and Brisbane. Awardees from a variety of Australian institutions were invited to attend, including 3 from Ethiopia.
At the workshops, Awardees were given the opportunity to reflect on and modify their reintegration plans through the Reintegration Planning Portal, ensuring alignment of Award- acquired skills and knowledge with their planned development contributions for implementation on return home.
In addition, they were able to further build their soft skills in areas of leadership, managing resistance to change, and stakeholder communication.
The workshops also provided Awardees with detailed information on their Alumni transition, including opportunities for engagement as part of the Alumni Network across Africa. (More: Australia Awards)
---
innovationXchange - Australia's new aid paradigm
The Hon Julie Bishop MP, Australian Minister for Foreign Affairs, launched innovationXchange, an initiative to revolutionise the delivery and effectiveness of Australia's aid program.
The $140 million project, the next phase of the Australian Government's new aid paradigm, will mainstream innovation throughout the Department of Foreign Affairs and Trade. See Media Release and to find out more, please visit http://www.innovationxchange.dfat.gov.au/.
---
Ethiopian Graduates from Australian Government-funded Scholarship Program Welcomed Back Home
The Australian Government recognized Ethiopians who returned home from their studies under a fully-funded Australia Awards scholarship. The ceremony was held on 18 February 2015 at the Radisson Blu Hotel.
They were joined by guests, including Alumni from the Australia Awards and International Mining for Development programs - both funded by the Australian Government - members of Alumni-employing organizations, representatives from the Australian Department of Foreign Affairs and Trade (DFAT) and dignitaries from key Ministries and government institutions, including the Ministry of Education, Ministry of Foreign Affairs, Ministry of Mines, Ministry of Civil Service, Ministry of Water and Energy, Addis Ababa University, Ethiopian Sugar Corporation and Ethio Telecom.
"This Welcome Home function celebrates the achievements of these scholars in completing their postgraduate studies in Australia. They are now better positioned to contribute to national and regional development," said H.E. Mark Sawers, Australian Ambassador to Ethiopia speaking at the event's opening. "We also look forward to maintaining strong links with them as members of our Alumni network."
The Australian Government has been a partner in supporting development efforts in Ethiopia and the Australia Awards scholarship program is a key mechanism of its aid program. Since 2011, over 170 scholarships have been provided to Ethiopians for Masters, PhD and professional development courses funded by the Australian Government. (Read more: Media Release, Australian Awards)
---
Australia Awardee – addressing HIV knowledge in Ethiopia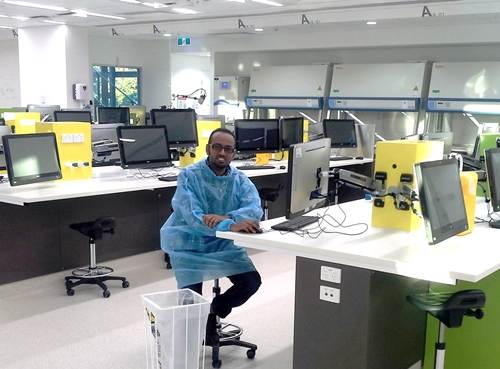 Dr Noah, CPC Research Lab - Sydney University Photo Credit: Australia Awards - Africa
Discriminatory health care services will miss the most at-risk populations and fail to control the HIV pandemic in sub-Saharan Africa, according to Ethiopian doctor, and Australia Award Scholar, Dr Noah.
Speaking on World AIDS Day, recipient of an Australia Awards double degree Scholarship to study HIV, STI & Sexual Health at the University of Sydney, Dr Noah said he planned to use his Award to address the poorly planned sexual and reproductive health services in Ethiopia on his return.
"My work to tackle the HIV/AIDS epidemic will cover a number of facets, including clinical care to people with STIs and HIV, research, teaching, and contribution to public health policy making and program delivery," he said.
"Working specifically in the public health sector, with a focus on sexual and reproductive health services, nearly half of my work could be focused on HIV/AIDS, and I hope to be actively involved in making better health policies and conducting both scientific and public health research to direct those policies in order to ensure at-risk people are taken care of."
Dr Noah said knowledge about HIV transmission, critical to bring about behavioral change and reduce vulnerability to HIV/AIDS, remains low in Ethiopia.
"That is why I believe more work is necessary to improve the overall comprehensive knowledge about HIV transmission through health promotion, especially targeting women, people with physical and intellectual disabilities, and residents of rural areas."
Importantly, Dr Noah is using his time on Award in Australia to make key contacts in the sector who he will be able to call upon for advice when he returns home. He said working as a volunteer at the AIDS 2014 conference in Melbourne earlier this year provided a huge opportunity to meet and network with HIV/AIDS experts from around the globe.
With approximately 24.7 million people in sub-Saharan Africa living with HIV, the Australian Government's commitment to fighting the spread of HIV/AIDS on the continent, and reducing the stigma associated with it, is underlined by its investment in Australia Awards Scholarships and Fellowships.
Australia Awards is training more African health professionals to assist in the prevention and management of HIV/AIDS in their countries through the provision of Masters-level scholarships with a focus on public health.
Click here for more information on how Australia Awards assists in the fight against HIV in Africa.
---
We have moved!
The Australian Embassy in Addis Ababa has moved to its new office located at Bole Sub City, Woreda 03 (Turkish Compound, off Cape Verde Street) on 1 July 2014.
The Embassy can be reached on Telephone +251 116 672 678, Fax +251 116 672 868 and e-mail adba.info@dfat.gov.au
---

Have you studied in Australia under Australian Government Funded Program?
Register now on the alumni database
And benefit from:
International professional development workshops and training
Financial support to form an alumni association
A small grants scheme to support professional development activities
Resources to assist alumni in implementing reintegration plans
Opportunities to engage with other alumni and new awardees
And more ...
Australia Awards in Africa (AAA) is an initiative funded by the Department of Foreign Affairs and Trade - Australian Aid.